Colmanara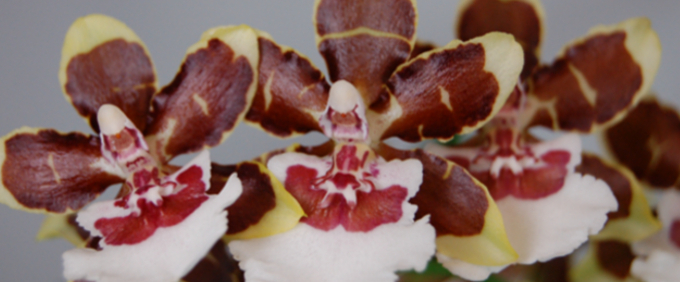 Colmanara impresses with its strong shoot growth. Colmanara usually have thick plant shoots and rich green, strong foliage.
This multi-genus hybrid likes to have longer stems with many smaller flowers. The panicles of most Colmanara like to branch. Colmanara consists of the following genera: Miltonia x Odontoglossum x Oncidium. The official abbreviation for this genus is Colm. The most famous varieties are Colm. Tropic Jungle (strong, branching multihybrids) and Colm. Massai (quite compact growth for a multi-genus hybrid in dark red, partly with markings in the lip).
Special orchid care instructions for Colmanara (Colm.)
Varieties of the genus Colmanara prefer a temperate and partially shaded location. They like to be watered regularly but should never get wet feet. Temperatures between 16 and 18 °C are ideal. Only diluted liquid orchid fertilizer should be used. Tip: Always use half of the concentration stated on the packaging. Although most multihybrids usually bloom in the short-term season, plant growth is important. The more shoots the plant makes, the more flower stalks it can have.