Dendrobium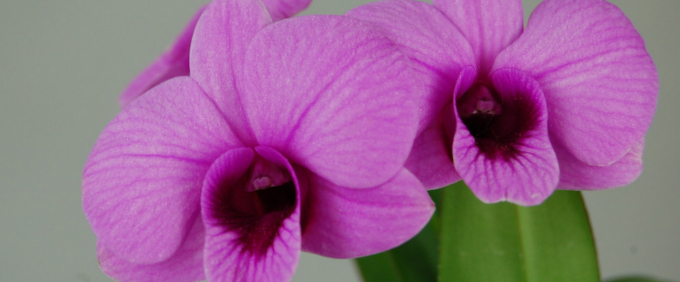 Dendrobium is probably the largest genus of orchids with around 800 species.
The variety in habit, scent and color seems almost inexhaustible. There are subspecies such as Dendrobium nobile group, kingianum group or phalaenopsis group. Nobiles, for example, have the flowers directly on the trunk, phalanopsis Dendrobium have almost right long flower panicles. Many species require a distinct period of rest in order to be able to flower richly each year or like to stand in cool locations. Most Dendrobium can be found in Australia, Indonesia, India and China.
Special orchid care instructions for Dendrobium
All Dendrobium have in common that they need a lot of light. During the shoot growth may be fertilized regularly, but always with half the specified concentration and in the dark winter months you should less water and no longer fertilize, otherwise the Dendrobium drives through. Most dendrobium can withstand temperatures of 10-12 °C. 15-20 °C are optimal. The flowering time of most Dendrobium is in autumn-winter. Phalaenopsis Dendrobium, on the other hand, tend to bloom in summer to fall.
Video zu Dendrobium (goldschmidtianum ) voll Blüte