Vanda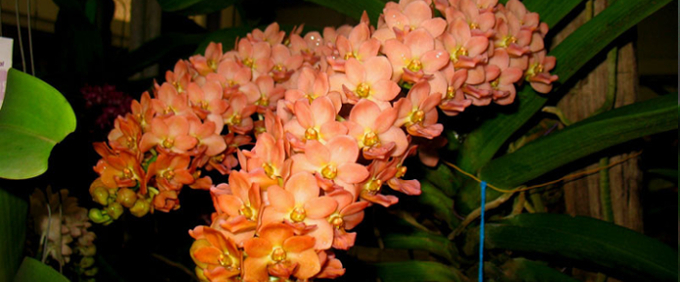 Vanda is an epiphytic plant with long aerial roots, cultivated absolutely without orchid soil.
Their natural occurrence extends from India via Thailand to the Philippines. It was discovered at the beginning of the 16th century. Their air-hungry aerial roots are not only there to cling to the growth medium but are the only way of moisturizing the plant and they are functioning like a sponge. Vanda can flower several times a year. They are very durable.
Special orchid care instructions for Vanda
They grow best in grid baskets without any plant material. Therefore, Vanda should be dipped regularly 2-3 times a week and always sprayed from time to time. Attention: Moisten only the roots and not the foliage - it is sensitive to fungal diseases. The water should be lukewarm and enriched once a month with special Vanda Tillandsia fertilizer. An always bright and warm location is crucial if you want to bring it back to life. In the summer you can hang them on a shady place in the garden. As a tip, a cultivation in a glass vase is recommended.